Welcome to the creative world of Taylor Graphics, LLC. I'm John Taylor, owner of this imaginative enterprise.
Taylor Graphics is dedicated to creating unique, visual solutions for business marketing needs. It is essential that every company have its own professional look, and Taylor Graphics cooperatively works with businesses to provide just that. Taylor Graphics is your "one-stop design shop," offering dozens of design, web and printing services.
Your satisfaction is TOP priority. With over 30 years experience as a graphic and web designer, advertising artist, illustrator, cartoonist, caricaturist, and photographer, my passion to create and publish imagery – in print and online – remains a driving motivation. For a refreshing and professional look, call today: (801) 376-8461, or email.
My Story
I grew up in Camarillo (Ventura County), California, home to lemon, orange and avocado orchards, and acres of agricultural fields. Located 50 miles north of LA and only 10 minutes from the beach, it was an idyllic and beautifully rural place to grow up, the seasons being temperate and mild year round. My parents moved to Oxnard, California in the 1940s after having lived in Mexico. They were born and raised in the Mormon Colonies in Chihuahua, Mexico – Colonia Juarez and Colonia Dublan.
As the youngest five children, I learned to enjoy sports, music and art at an early age. My specific interests were baseball, basketball, running, drumming, stamp collecting – and, of course, drawing. My father greatly influenced me in art, himself being a highly skilled calligrapher and sign painter. From my mother, I learned to love great music and great literature. My siblings taught me how to do well in school and prepare successfully for life. My boyhood dream was to play second base for the Los Angeles Dodgers. If you've seen the movie, "Sandlot", I was the original Benny the Jet.
I had an outstanding experience in high school, lettering in three sports – baseball, basketball and cross country – and playing drums in the band. I enrolled in a wide variety of classes as many subjects interested me. In 1972, I was part of the varsity basketball team which won the CIF 3A Southern Section championship in the LA Sports Arena. Our record was 28-3.
After high school, I attended Brigham Young University in Provo, Utah, where I graduated in 1980 with a Bachelor of Arts in Art and Design and a Minor in French. In the mid-1970s I served an LDS Mission to France and Switzerland. I remain fairly conversant in French and Spanish.
This is my family today. We moved from southern California to Utah in 1988 and have grown to love Utah and the beautiful scenery here.
I have been fortunate to marry 2 wonderful women thus far in my life, Jennifer, in 1980, and Natalie, in 2005. I have 4 grown children and 2 grandchildren, all of whom are a strong support and continuing inspiration in my life.
It has been wonderful to observe the growth and development of my children and to see them leading good, decent lives. I have always believed in the proverb, "train up a child in the way he should go, and when he is old he will not depart from it." Family unity augments the good times, and when times get difficult the family is always there for strength and support. It has been a privilege to love and teach my children, and to be loved and taught in return.
My earliest inspiration for drawing came from visiting Disneyland in my youth and watching – with fascination – the park caricature artists draw person after person. With my father's encouragement, I became determined to make caricature art a solid part of my portfolio as I pursued my career as an artist and designer.
Visit Jazz Caricatures.com
After obtaining my art degree in college, I worked as a freelance syndicated newspaper editorial cartoonist and political caricaturist for over 20 years. I once received a personal message from President Ronald Reagan thanking me for a caricature I mailed to him while he was in office. I have also been employed as a full-time graphic designer at various companies, creating and producing hundreds of marketing and advertising materials. I enjoy drawing by hand, especially in pencil, and digitally creating designs and websites on my Mac and PC.

I've been an avid free throw and 3-point shooter for the past 25 years, having shot nearly 50,000 free throws. My overall free throw percentage is 96%. I was fortunate to have outstanding coaches in my youth, and older brothers who were great shooters on their varsity teams. Shooting hoops helps me to focus, which carries over to my creative art and design efforts.
Consecutive shooting records include: 239 free throws; 35 3-pointers; and 11 left-handed free throws.
Watch video: 99-100 free throws
Watch video: 42-50 3-pointers

I have long considered reading to be as healthy an exercise for the brain as physical workouts are for the body. I love the classics and great literature. My favorite books include The Count of Monte Cristo, Les Misérables, Ben-Hur, Jane Eyre, David Copperfield and novels by Thomas Hardy. I have also enjoyed reading Lonesome Dove (and other works of Larry McMurtry), international intrigue and biographies of all kids. English philosopher, Sir Francis Bacon, said, "Some books are to be tasted, others to be swallowed, and some few to be chewed and digested." I chew and digest. In the last 20 years I have read nearly 100 books, comprising 45,000 pages. Good books have inspired, informed and transformed my life. And, continual reading has boosted my writing ability and has helped me to hone advertising content for personal and client projects.

"One should really use the camera as though tomorrow you'd be stricken blind." – Dorothea Lange.
Photography genres which interest me include landscape, events, architectural, sports and wildlife. It is a thrill to be an artist through the lens and capture beautiful, inspiring moments. I enjoyed my beginnings of shooting with film and have accelerated the process with digital photography. There are countless ways to challenge yourself with photography – you can always innovate. From new techniques, genres, projects, equipment and inspiration, to workshops and tours, there is so much to learn and try.
To capture a moment in time in a more powerful way, making my viewer linger longer and feel more real or surreal…that is what I work for.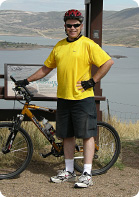 I have enjoyed bicyling ever since riding a Schwinn Sting Ray with the banana seat. I rode it literally everywhere. Later, I graduated to a Schwinn Varsity 10-speed, and am now riding a 27-gear Raleigh M80 mountain bike. Cycling is excellent cardiovascular exercise and I find myself often riding up scenic Provo Canyon and around Utah County.
Cycling presents a unique mode of travel which is both liberating and explorative (and easier on the knees than running, which I have done for many years). I have taken a couple of longer rides (50K and 100K) in California and Utah, riding at a leisurely pace and experiencing beautiful landscapes. Sometimes I combine photography with cycling, probing areas in which to take photos while getting a good workout.
I believe it is therapeutic and healthy to continue later in life an activity which one has enjoyed during youth – it keeps you young and focused.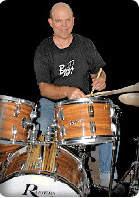 I am a jazz drummer. I began drumming at age 8, and have performed in marching bands, orchestras, stage bands, jazz ensembles and jazz combos. I come from a musical family – my sister is a pianist/organist, my brother is a renowned jazz and classical trumpet player and my nephew is a concert pianist.
Jazz is a challenging and rewarding genre of music, in that it mirrors other highly creative tasks like drawing and extemporaneous speaking. Ideas and advanced technique must be able to adapt, turn on a dime, and meld within a combo setting. I have been influenced by many other styles of music, such as great pop tunes of the 70s and 80s, Broadway musicals, classical and latin. Recently I was the drummer for Brijj Jazz, a 4-piece jazz combo based in Salt Lake City, UT.
Watch video: "Blue Bossa" by Brijj Jazz   Watch video: "Happy Feet Blues" by Brijj Jazz   Watch video: "Caravan" by Brijj Jazz